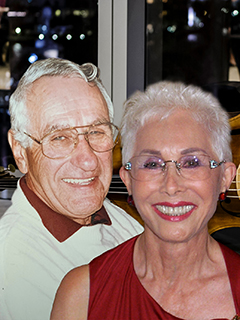 The Frost School of Music at the University of Miami presented the 2019 Frost Legacy Award to Olga and David Melin, directors of the Olga and David Foundation, through which they support visual and performing arts, including a wide array of organizations such as human services, conservation, and wildlife organizations. Mr. and Mrs. Melin have generously supported The Frost School of Music over many years and are UM Grand Founder Society members.

"David and I continue to be thrilled with Dean Shelly Berg's vision and leadership of the world-class Frost School of Music. We congratulate him, the Frost Faculty, student musicians and are very proud and happy to support them".

The Melin's recently celebrated their 48th wedding anniversary and reside in Sunny Isles Beach.  They have three daughters, one son, five grandchildren, and eight great-grandchildren. Their daughter Gina Melin Robichaux, is a UM alumna (MM '93 and BGS '88).  Mrs. Melin, a native Miamian graduated from UM with a degree from the School of Arts and Sciences. With her background in nutrition, she interned at the VA hospital in Houston, Texas.  David Melin is a retired private investor and entrepreneur; a native New Yorker, he is an alum of Long Island University. After serving in the Navy, he settled and Florida and founded Tech Aerofoam Products, which he eventually sold.
 
David and Olga Melin have made their mark on UM and our community. Mrs. Melin was a longstanding trustee of Barry University, where she and her husband established the Olga and David Melin Scholarship.  She is also vice president of the National Chopin Foundation of the U. S. (Dean Shelly Berg serves on the advisory board) which fosters the future of careers of young American pianists. The Chopin Foundation co-presents with Frost the Chopin Foundation and Academy, which held its second annual program this past June.  
 
In addition to being avid supporters of Frost, including the Moon River Society the graduate fellowship program of the Henry Mancini Institute, they are founders and support: Miami Salon Group, New World Symphony, Miami City Ballet, Miami Music Festival, Martha/Mary Concerts, Sun Valley Music Festival, Everglades Coalition, Florida Wildlife Federation, National Wildlife Federation, Nature Conservancy and National Parks Conservation Association. Their contributions to human service organizations include the American Cancer Society, the American Heart Association, the American Red Cross, Big Brothers Big Sisters, the Camillus House, Doctors Without Borders, the Easter Seals, Make a Wish Foundation, the March of Dimes, the Salvation Army, among others.  
 
The Melin's are active in breeding and racing thoroughbreds, enjoy the outdoors and support several organizations that help preserve wildlife and our natural ecosystem. Olga is an avid saltwater angler who enjoys nature and hikes in the Idaho wilderness and parks where they own a home. Together and with friends they enjoy a good game of golf.