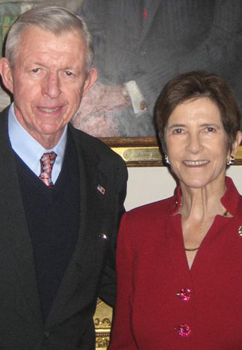 Ambassadors Chuck and Sue Cobb are longtime contributors to the University of Miami. Chuck has been a trustee for 42 years and has been the past chair of the Board of Trustees and the former chair of many of its committees, including Executive, Finance, Investment, Strategic Planning, Construction, and the Presidential Search Committee. Sue is a graduate of UM School of Law and was the 2006 UM Alumnus of the Year. She continues serving on the Law School and Athletic Policy Committees. Their family has contributed over $5 million to UM such as Cobb Stadium and the Cobb Fountain. Many scholarships have been funded through their generosity. Sue is president of the Cobb Family Foundation, former ambassador to Jamaica, secretary of state of Florida, CEO of the Florida Lottery, a partner at Greenberg Traurig and a multi-year member and three-term chair of the Miami Federal Reserve. In addition to being an alumnus of UM School of Law, she is a graduate of Stanford University. 
Chuck has served as the CEO and/or board member of many prominent corporations including Arvida, Pan Am, Disney, Penn Central, LNR, Southeast Bank, WCI Communities, Ameritas, and CLC of America. He is the former undersecretary of commerce and ambassador to Iceland. He received his BA and MBA degrees from Stanford University. 
The Ambassadors have been officers and directors of several public, private, and charitable boards and have received numerous awards including national honors from both Jamaica and Iceland.
They were honored with the Frost Legacy Award in 2010.