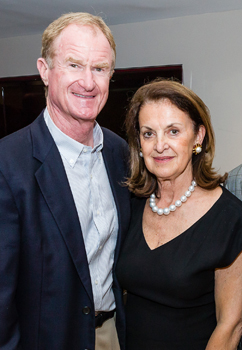 Roe and Penny Stamps were honored at the Frost School of Music's 2005 holiday dinner. They generously support educational and artistic experiences at the Frost School School of Music through the The Stamps Family Charitable Foundation. Committed to the enrichment of educational and artistic experiences for student scholars throughout the country, the Stamps Family Charitable Foundation Distinguished Visitors Series and the Stamps Family Charitable Foundation Music Scholarship Fund at the Frost School of Music are enriching the lives of our music students, and in turn, the South Florida community.
Roe Stamps is co-founder and managing partner of Summit Partners in Boston. Before founding Summit Partners in 1984, Stamps worked as a partner at TA Associates and as a senior investment manager at First Chicago Investment Corp. He spent five years as director of Ameripath and seven years on the board of directors at the Pediatrix Medical Group. He is a member of the Board of Trustees at the University of Miami and the Intrepid Fallen Heroes Fund. In 2004, he was awarded the Outstanding Service Award by the National Venture Capital Association for his work to engage the industry in public policy discourse and to raise awareness of venture capitalism's contributions to the U.S. economy.
Since the early '90s, Penny Stamps devoted her time to charitable causes. She served on boards of private elementary and secondary schools, as well as various community and arts organizations in the area. She was the president of the Stamps Family Charitable Foundation, until her passing, which supports the Stamps Scholars Program at five universities, including the University of Miami.