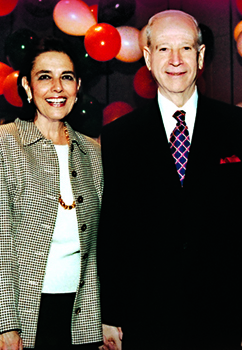 Dr. and Mrs. Phillip Frost have a longstanding tradition of involvement with UM with a total recognition of over $130 million, primarily to the Frost Institutes of Chemistry and Molecular Science and Frost School of Music.  Their $33 million gift to the School of Music in 2003 was the largest ever given to a university-based music school in the United States; the school was then officially renamed the Phillip and Patricia Frost School of Music.  The new state-of-the-art Patricia Louise Frost Music Studios complex opened in February 2015 on the University of Miami campus.  It houses over 77 individual teaching and chamber music studios, plus classrooms for percussion and contemporary music production.  The Frosts thoughtful support continues to fund program endowments, faculty chairs, student scholarships, and facility improvements.
 
The Frosts began their philanthropic relationship with the School of Music in 1989, when they donated three gifts, establishing the Patricia L. Frost Professor of Music Chair for the Dean of the Music School, the Anna Frost Music Scholarship Fund and the Abraham Frost Prize in Music Composition.  They also donated $1 million to establish the Frost Band of the Hour and more recently donated $1 million to rename the Frost Music Reach (community music program) in honor of UM's former president Donna Shalala.  It is now known as the Donna E. Shalala MusicReach Program at the Phillip and Patricia Frost School of Music.
 
At President Frenk's inauguration in January 2016, he announced a transformational and historic $100 million gift from the Frosts to support basic and applied science, technology, engineering and mathematics at the University.  This is the largest single gift ever announced at an inauguration.
 
Dr. Phillip Frost served as campaign chair for UM's first Momentum campaign during his tenure as chair of the Board of Trustees.  He is currently a member of the UHealth and School of Law visiting committees, and both he and Patricia serve on the Frost School of Music Board of Advisors.  Dr. Frost is CEO and chairman of OPKO Health, a biopharmaceutical and diagnostics company.  He founded IVAX Pharmaceuticals, one of the largest U.S. generic drug manufacturers, selling the company to TEVA Pharmaceuticals in 2006 while continuing to serve on the TEVA board until 2015.  Mrs. Patricia Frost, formerly principal of West Laboratory School, worked closely with UM's School of Music to develop music programs at the school.  She is Chair Emeritus of the Smithsonian National Board and Smithsonian American Art Museum and is currently a member of the State University System of Florida's Board of Governors.
They were honored with the Frost Legacy Award in 2001.