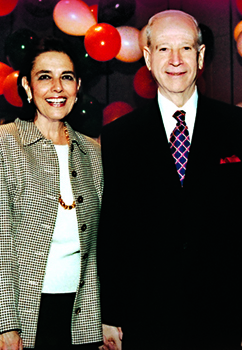 Dr. and Mrs. Phillip Frost's $33 million bequest to the School of Music in 2003 was the largest gift ever given to a university-based music school in the United States. Fittingly, the School of Music was officially renamed the Phillip and Patricia Frost School of Music. Today, the Frosts' donation continues to be used to fund program endowments, faculty chairs, student scholarships and facility improvements.
At his inauguration in January 2016, President Frenk announced a transformational and historic $100 million gift from the Frosts to support basic and applied science and engineering at the University. This is the largest single gift ever announced at an inauguration.
Dr. Phillip Frost was the founder, chairman and CEO of IVAX Corporation, a Miami-based multinational pharmaceuticals company, and is currently Chairman of the Board of TEVA Pharmaceuticals. He is a former chairman of the University of Miami's Board of Trustees.
Mrs. Patricia Frost is a retired educator who was the principal of the prestigious West Laboratory Elementary School, adjacent to the University of Miami campus. She is the former chair of the Smithsonian National Board and is currently on the Florida Board of Governors. The new Patricia Louise Frost Music Studios North and South buildings opened in February 2015 on the University of Miami campus.
Dr. and Mrs. Frost are members of the Frost School of Music advisory board.