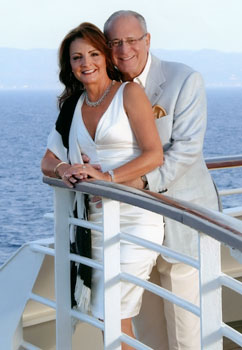 Michael S. Gordon, M.D., Ph.D. (1937-2017) made a lasting institutional impact to the University of Miami as founder and first director of the Gordon Center for Research in Medical Education at the Miller School of Medicine. His legacy as a true pioneer, who developed the Harvey cardiology simulator for teaching clinical skills, inspires generations of physicians around the world. Barry Issenberg, MD, the center's current director, said, "What Michael was able to do was get people to believe in the vision of saving lives. His passion rubbed off on them...Everyone, every day, knew they were contributing to the mission."
Michael had an international reputation as an innovator in the adoption of more effective medical education through advanced computer technology and simulation. His programs received widespread recognition for their educational excellence, and have had a major impact on training programs in several professions. This included working with Miami Fire Rescue Chief, Carlos Gimenez (now Miami-Dade County Mayor), in the early 1990s. They changed the model of "scoop and run" that paramedics were previously taught, and developed life-saving protocols for managing heart attacks and other medical emergencies in the field.
Michael was deeply committed to his work, but he was also devoted to his wife, Lynda, and their Cavalier King Charles spaniel, Corky. He and Lynda enjoyed 28 wonderful years together and renewed their wedding vows last January among family and friends. "He never focused on the fame, or how he was regarded in the industry and in life," says Lynda. "He always gave credit to his colleagues and thanked them when he and the University of Miami received numerous awards for innovation in medical education. His favorite saying was 'If you want to go faster, go alone; if you want to go further, go together.'"
Upon first hearing the Frost Chorale perform holiday music at Winter Wonderful, Michael remarked, "I had tears in my eyes. All those students standing around you and singing, it was glorious!" The Gordon's have attended Winter Wonderful for many years, sponsoring a table and contributing generously because they deeply care about the Frost School's mission, Dean Shelly Berg's vision, and the Donna E. Shalala MusicReach program. Michael and Lynda Gordon were honored with the Frost Legacy Award in 2012.