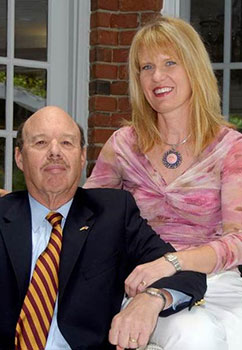 The University of Miami Phillip and Patricia Frost School of Music presented Dr. Richard and Mrs. Carin Krasno with the 2016 Frost Legacy Award in recognition of their generous support of the Donna E. Shalala MusicReach program.
Richard and Carin represent an international love story. While President of the Institute of International Education, Richard met his Swedish-born wife during a trip to Sweden in 1991. She accepted his invitation to visit him in New York and the rest is history. They have now chosen to make their home in Florida and devote their time to staying informed about the area's many causes in support of the arts, education, and health care.
As the former Executive Director of the William R. Kenan, Jr. Charitable Trust, Richard Krasno is widely admired for guiding the Trust's philanthropic activities around the country. With a Ph.D. from Stanford, he served as the Deputy Assistant Secretary of Education in Washington, DC, President of the Monterey (CA) Institute of International Studies, and chairman of the University of North Carolina Health Care System.  Currently, he is Lead Independent Director at Ladenburg Thalmann Financial Services in Miami, trustee of the Miami Heart Research Institute and a member of the advisory board of the Center for Public Leadership at Harvard University. 
Carin Krasno brought great leadership and clarity to her role as a charter member of the Friends of PlayMakers Repertory Theatre Advisory Council. While living in Chapel Hill, the couple regularly attended the PlayMakers Ball, Opening Night performances, and held events in their home in support of theatre.
Carin holds a degree from the University of Connecticut, and has worked as a technical translator, as well as with the Swedish Women Educational Association (SWEA).
Richard and Carin Krasno are enthusiasts of arts and have played an integral role in the growth of the Donna E. Shalala MusicReach program. They often enjoy attending events and concerts, and support various musical endeavors students and faculty.