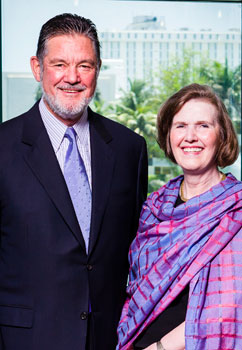 The Phillip and Patricia Frost School of Music at the University of Miami presented David R. Weaver and Dorothy Collins Weaver with its Frost Legacy Award during the Winter Wonderful 2013 celebration. The award acknowledged their inspired and dedicated service to our great music school, the university, and their noble support of the arts throughout our community.
David R. Weaver is a senior trustee of the University of Miami Board of Trustees and is the Frost School of Music Momentum2 campaign chair. He hails from a musical family and worked throughout his college years as a church organist…and still plays the organ, as time permits. He is Chairman and CEO of Intercap Energy Systems, LLC, a technology company providing energy conservation software as a service. Dorothy Collins Weaver was chairman, CEO, and co-founder of Collins Capital Investments LLC, a hedge fund. She was a former chair of the Miami Federal Reserve and an active philanthropist and community leader. David and Dorothy, along with daughter Christina, son Andres and extended families, have hosted several large musical soirees with Dean Shelly Berg and other musical luminaries on behalf of the Frost School of Music.
The Frost School of Music will soon be home to the Dorothy and David Weaver Auditorium located inside a proposed new 200-seat Recital Hall on the UM Coral Gables campus. It will feature a dramatic concert stage framed by a floor-to-ceiling window overlooking Lake Osceola and the Cobb Fountain, conceived to showcase student and faculty recitals, as well as chamber music concerts. Its serene setting and intimate acoustics will reflect the quiet impact that the Weavers have made on South Florida, and far beyond.