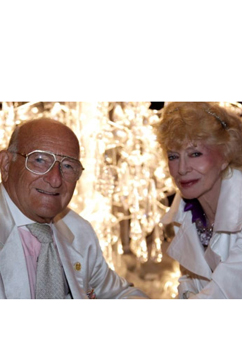 Dr. Sanford L. Ziff was the founder of Sunglass Hut International, Inc. He was born in Akron, Ohio and attended the University of Akron, the University of Miami and received his Doctorate Degree from the Northern Illinois of Optometry in Chicago, Illinois. He practiced Optometry in Miami specializing and doing clinical research in Contact Lenses. He has been published in most all Optometric and Ophthalmologic Journals in the United States and abroad where he has also lectured extensively.
Dr. Ziff and his late wife Dolores were engaged in Philanthropy on a full time basis. They provided numerous naming gifts to higher education including the Sanford L. Ziff Family Art Gallery at the University of Miami Lowe Art Gallery, the Sanford L. Ziff Career Services Center at the University of Miami School of Business, and have named centers at Florida International University and Nova Southeastern University.  The Ziff have also contributed to the music scholarship fund at the Frost School of Music.
Their commitment to the arts and culture of South Florida has also been recognized by the naming the Sanford and Dolores Ziff Ballet Opera House at the Adrienne Arsht Center for Performing Arts in downtown Miami, where they also provided annual funding for the Sanford and Dolores Ziff Classical Music Series and the Sanford and Dolores Ziff Dance Series.
They were the recipients of the Frost Legacy Award in 2008 in honor of their love and support for the arts.