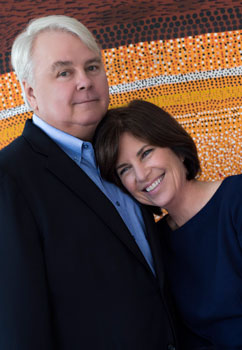 The University of Miami Phillip and Patricia Frost School of Music presented Debra and Dennis Scholl with the 2015 Frost Legacy Award at its annual Winter Wonderful holiday gala on December 6, 2015 in recognition of their advancement of the cultural arts landscape, both regionally and internationally.
As contemporary art collectors, Debra and Dennis Scholl are renowned for their support of art, and artists. They are also highly regarded for their efforts to build the permanent collections of contemporary art museums. They are founding chairs of the Guggenheim Photography Committee, the Tate American Acquisition Committee, and an acquisition committee for the new Pérez Art Museum Miami where they have donated 300 works of contemporary art from their personal collection.
Debra Scholl's leadership of Locust Projects, a nationally recognized alternative art-space in Miami, reflects the couple's commitment to providing artists with a place to experiment. She serves on a number of Miami boards including Town Square Neighborhood Development Corporation, Brickell Avenue Literary Society, and Funding Arts Network. She received an American Red Cross Spectrum Award for service to the cultural community.
Dennis Scholl stepped down as Vice President of Art for the $2.5 billion Knight Foundation, where over the last six years he has overseen funding of over $150 million to arts organizations across America. He created Random Acts of Culture, and with his Knight arts team developed the Knight Arts Challenge, expanded a Community Supported Art program, and more. He has served on the boards and executive committees of Aspen Art Museum, MOCA Miami and the Pérez Art Museum Miami.
Debra and Dennis are avid music lovers and often attend events that feature Frost School of Music students and faculty.