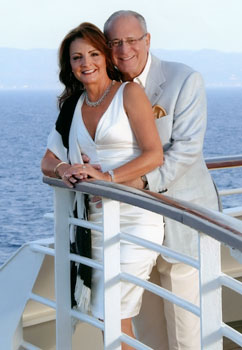 My late husband Michael referred to this quote often:
"If you want to go faster, go
alone,
if you want to go further, go together." 
The Henry Mancini Institute Orchestra, Dean Berg, vocalists Kyle Gemberling and Alexandra DeWalt gave a touching performance at Michael's Celebration of Life at the University of Miami Maurice Gusman Concert Hall on October 12, 2018. 
Together, Dean Shelly Berg and his talented staff have taken the Phillip and Patricia Frost School of Music further and have given the students under their tutelage the tools to spread their wings after graduation. 
Together the Frost MusicReach Mentoring Program has given many children in our community an opportunity to learn not only an instrument but a way of life, a way of bettering their lives.
It is my privilege and an honor to continue to support the Frost MusicReach Mentoring Program and dear friends, Dean Shelly & Julia Berg.   
A part of Michael will always live here at the Frost School of Music, and he will be singing along with the many gifted performers you will hear tonight. 
Mrs. Lynda Gordon