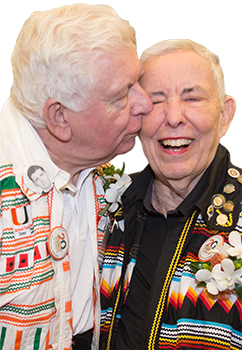 The Frost School of Music at the University of Miami presents the 2018 Frost Legacy Award to 
Patti and Allan Herbert
for their longtime patronage of Winter Wonderful, philanthropy in the arts, commitment to the health and wellness of the community, and generous support of the Frost School of Music. 
The Herberts, who celebrated their 60th wedding anniversary in May 2018, met and fell in love while attending the University of Miami in the 1950s. In 2004, to commemorate their love, they established an endowment for the "Love Bridge" outside the University's Wellness Center. Proceeds from the sale of personalized bricks on the bridge support the 'Canes Health Assessment and Motivation Program (CHAMP) endowment established by the Herberts.  
In 2008, the Herberts contributed $8 million to name the Patti and Allan Herbert Wellness Center on the University of Miami's Coral Gables campus. Allan also serves on the University's Board of Trustees and the Frost School's Board of Advisors. 
The couple recently donated over $1 million to rename and endow the Patti and Allan Herbert Frost School of Music Program at Salzburg and gave $500,000 to the Frost School to create the Patti and Allan Herbert Endowed MusicReach Student Support Fund. 
The Herberts have both enjoyed successful careers; Allan as a group executive and insurance company president at Teledyne, and Patti at the Grubb & Ellis commercial real estate firm. They renovated the historic Richmond Hotel in Miami Beach, which they continue to own and operate.  
They are recipients of the UM Alumni Association Henry King Stanford Alumni of the Year Award (2004) and the UM Alumni Association Green: Outstanding Fundraiser Award (2008). They are also members of Iron Arrow. 
"The University is very special to both of us," says Allan. "It is where we got our education, made life-long friendships, gained leadership skills, and met our life partners. Every successful alumnus owes it to their university to repay them in some way for the education and opportunities they received while in school."