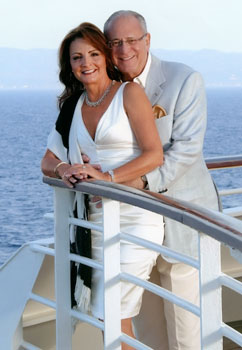 Michael S. Gordon, M.D., Ph.D. is founder and Director Emeritus of the Michael S. Gordon Center for Research in Medical Education at the University of Miami Miller School of Medicine and Professor of Medicine (Cardiology). He has an international reputation as a pioneer in the delivery of more effective medical education through advanced computer-based technology and simulation. His programs have received numerous awards for their educational excellence and have had a major impact on teaching programs throughout the world. In 1996, he received the highest educational honor of the American College of Cardiology, the "Gifted Teacher Award." More recently, he received the highest honors of both the University of Illinois Alumni and the International Society for Simulation.
Upon hearing the Frost Chorale perform holiday music at Winter Wonderful several years ago, "I had tears in my eyes," says Gordon. "All those students standing around you and singing, it was glorious!" He and his wife Lynda Gordon have been attending ever since.
Michael and Lynda are both active philanthropists at the University of Miami and in South Florida. They purchase a table every year because they care about the Frost School's mission and the Frost MusicReach mentoring program, to which they have contributed generously. They were honored with the Frost Legacy Award in 2012.